I fell in love with red pants on pinterest. There are so many ways to make them look classy while still being bold with your colors. I also tend to wear a lot of black, white and gray and red is the perfect pop of color for those tops.
The thing is, all of the pants I found everywhere else were super expensive but I found some on
Amazon
of all places for $23.00. 20. 3. I was worried about the quality but they actually look great and feel pretty good for pants I won't be wearing every day. (I always invest in quality jeans and classics) but for a pair of red pants I will probably wear... every other week at most I thought they were perfect and am considering getting them in Royal Blue as well.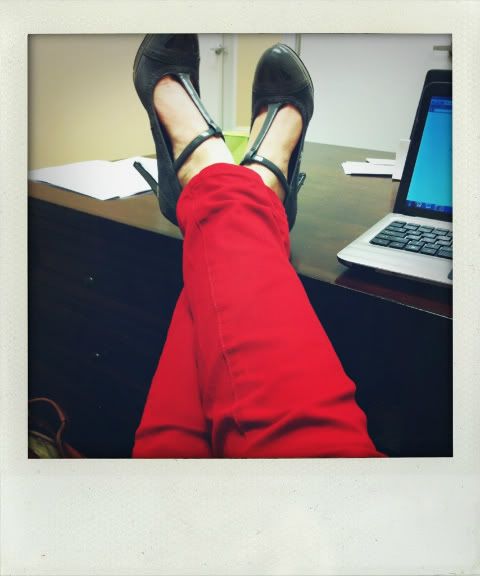 I first ordered the medium which were much too big but the small fit perfectly. They also send you a free gift with every purchase and both of them were hilarious. (Yes I kept the free gift even when I exchanged the size.)
What I'm saying is, if you ever thought like me about investing in a pair of colored jeans early 90's reminiscent that you will eventually give away so you don't want to spend a lot of money, I found the source.
P.s. if someone can fix the images on my blog where I put my about, contact, friends, etc. from not showing up I will bake you a pie. You pick the flavor.