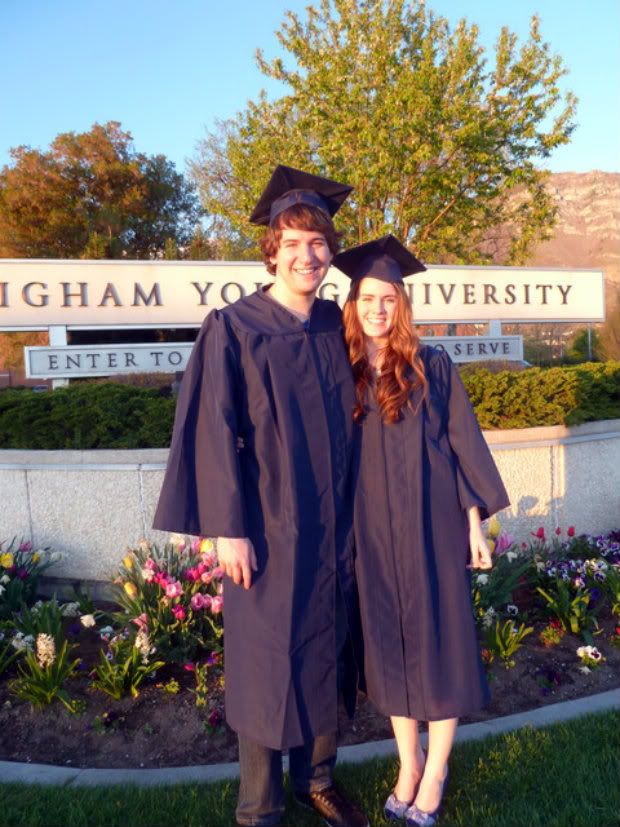 I didn't walk at my graduation. I said I didn't do it because we were getting married around that time and I was stressed but if I were being honest with myself it was really because walking at a graduation felt too official. I loved college. I loved being a student. It has been a little hard to come around to the idea that it is Kevin's turn to go to school now and that it will be my turn again when he is done but I am starting to feel okay about it.
We decided to take pictures even though neither of us walked. We borrowed some robes from great friends, and had my sister in law Julie take the pictures. It took five minutes, and this is the only one I would put in a public place but it was still worth it. "For posterity" I kept telling Kev.
Well kids? Here are your parents not on graduation day. Just dressed in borrowed robes standing in front of the entrance sign. Your mom studied English and your dad studied Neuroscience and we hope you go to BYU too so your education will be subsidized and we can use our money to go on cruises and retire early.
p.s. Photobucket changed and I hate that site anyway. What do you use to put html photos on your blog? I don't like using the basic uploader since it always changes the size.