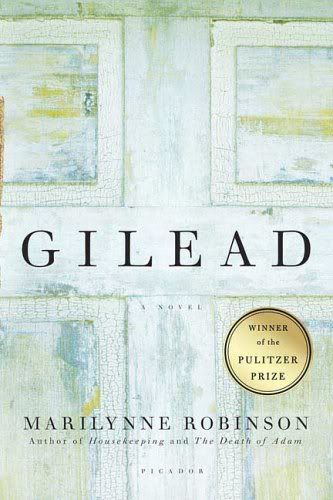 I just finished my first book on cd: Gilead, by Marilynne Robinson. I have a twenty minute commute to work, which means almost an hour of my day is spent driving. After everyone I knew got tired of me calling them during those two spaces in time, I went to my library and checked out Gilead. And I am so happy I did.
The whole book is a letter, written from a father to his first and only son. The father is 76, the boy is 6 and the father is dying, afraid that his son will never understand what his life was, and how much he loved him.
Driving on the freeway, sometimes beautiful, sometimes dark, sometimes pouring rain, I was taken to a different world where the love of a father was so evident that I missed my exit more than once, entranced by the beauty of the young son's existence.
Even though all of it was beautiful, this line has been running through my mind ever since because I think if someone asked me the definition of love, I would have to tell them this:
"
I can tell you this, that if I'd married some rosy dame and she had given me ten children and they had each given me ten grandchildren, I'd leave them all, on Christmas Eve, on the coldest night of the world, and walk a thousand miles just for the sight of your face."
Gilead was pure loveliness.