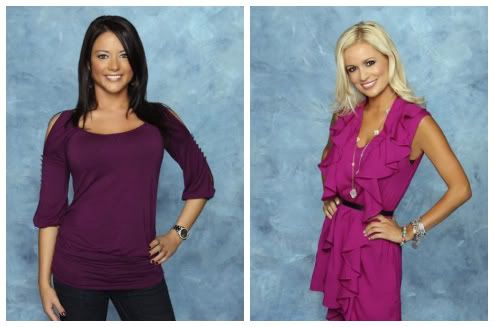 Last season I was certain Tenley was going to win, so when Vienna did I almost cried. Vienna? Over Tenley? (who after Bachelor Pad I actually found annoying.)
This season though, I really like both girls. I have been rooting for the two of them all along, and a couple of times thought that Chantal was going to be kicked off but am so happy she made it this far.
Personally, I am pretty sure that Emily is going to win unless she decides to back out and say that Ricky isn't ready for a dad yet. Otherwise I am about 80% positive Brad will pick her. Chantal is darling, but struggles with fashion sense and doubts their relationship a lot, while Emily totally strokes Brad's ego.
I heard rumors that Ashley was the next Bachelorette which would be a shame. She has a mom haircut and is a dental student. NOT a dentist yet like they claim. I would be happy with either Chantal or Emily as the Bachelorette, but might be sick if they pick Ash.
So what do you think? Chantal or Emily as the winner? (And who would you want as the next Bachelorette?)