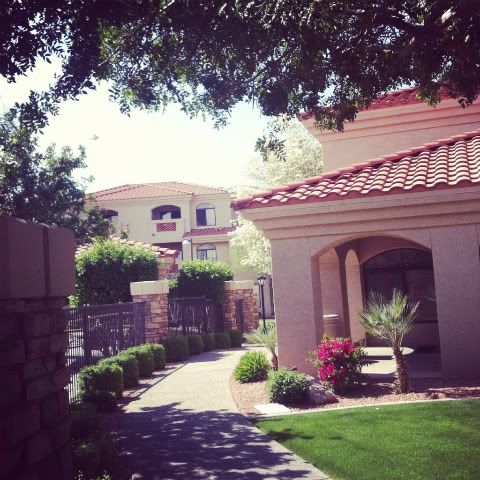 We went to Arizona last weekend. It was an equal experience of love and depression. We loved the place, the apartment we found (pictured above), the warmth (I'm certain we will be singing a different tune come August.) We didn't love the meeting we had with the financial aid counselor, or the long drive, or the frustrations and fears we let seep in.
Friends have told me that I am being dramatic about this experience. I know they might be right, but I don't want to fake enthusiasm. The last thing I want to be is phony, and it is hard for me and it does scare me and I don't feel ready to leave this life I love here.
My parents moved to Japan 23 years ago with three little girls (me, at ten days old.) My dad managed the Sheraton in Tokyo Bay and worked crazy hours. My mom didn't speak the language, had no friends, and often wondered what she was doing there. She felt alone a lot, I know that.
I think about how brave she was - how brave they both were to do that. I think of how blessed I am - to have a husband who is not only smart and ambitious, but also very kind and humble. I think of the blessing of being able to keep my job, I think of the beauty of the new space we will live in, I think of my best friend Lizzie being just 25 minutes away, I think of the opportunities that life grants you when you work for them.
I think that it is okay to not enter everything you do with feigned enthusiasm. I wish we could talk about our fears a little more openly, because I have found that when I voice mine, I see how small they are in comparison to the love that blares at me every minute I am alive on this earth.