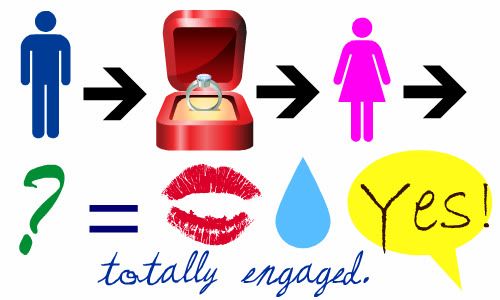 Someone asked me on my formspring how Kevin proposed. I love thinking about that day.
It happened to be Kevin's birthday - March 19. That shows the kind of person Kevin is. Instead of wanting all of the attention that day, he decided the best gift he could receive was me saying yes to marrying him. He's pretty sweet like that.
We went on a date which I planned for his birthday, and I planned on spending the rest of the night cuddling in the fort I built for his birthday. After watching some of March Madness in our sweats, Kevin asked if we could go to "our spot" at the top of Provo. I was hesitant because it was cold, and I did not feel like going for a drive. But he asked that we do it as a special birthday request.
We drove up there, and I am not even joking on the car ride there Beyonce's "Single Ladies" came on. I started laughing because I was anxious to be engaged by this point and I kept singing, "If you liked it then you should have put a ring on it." Now that I look back on it he was laughing very nervously.
We pulled into our spot, a gorgeous place in the mountains overlooking Utah Valley. The entire valley was lit up with lights and it was so beautiful. We pulled a blanket out of my car and laid down on the hood of the car, looking at the stars. It really looked like we were in between two sets of stars. The ones above our heads, and the ones below us in the valley.
Then Kevin started telling me all of the things he is so excited to do in this life. He talked about details like going to the hospital with me and listening to our baby's heartbeat, brushing our little girls hair when they get out of the tub, and taking long walks together when we are old. I listened to him so intently as he got emotional and told me that all he wanted for the rest of his life was to be with me. We got off the hood of the car to hug, and then he knelt down and pulled a ring out of the pocket of his sweatpants. Then he asked me with tear-filled eyes if I would marry him.
I was overwhelmed with emotion. I started laughing and crying at the same time, and he slid the ring over my finger and then he spun me around. After a couple of minutes he said, "Is that a yes?" We both started laughing hysterically (honestly we probably looked crazy to anyone who may have seen) and I said yes of course it is a yes.
It was simple, and private, and not forced at all. It was exactly the way I wanted to be proposed to. We weren't dressed up, we hadn't gone on an elaborate date, and there were no roses or hot air balloons or easter bunny costumes. It was just us. I felt like there was nothing more important in the world that was happening at that time than the tiny spot in the world where Kevin proposed between the stars.
And I still feel that way.